Miami Coral Park Senior High School
In Memory
Harvey Drew Scofield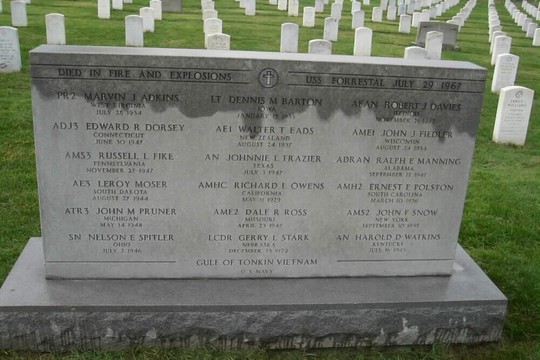 Photos and Content Submitted by: Danny Perales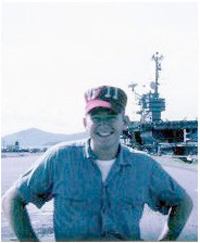 Harvey Drew Scofield
I remember our classmate, Harvey Scofield, as a very nice person. He was always smiling.
In the summer of 1967, I remember reading about Harvey's death in a Miami newspaper. Harvey was an AN (Airman Navy) E3 (Enlisted grade 3) on America's first super aircraft carrier, the USS Forrestal. His job was to help prepare the jets for their combat missions over Vietnam. Future POW and US Senator, John McCain, was one of the naval aviators on that ship.
Last summer, I was shopping at one of my local grocery stores in Walnut Creek, California, when I saw a tall very fit man, in his late 60s, standing next to me at the deli counter. He was wearing a navy blue baseball cap with, USS Forrestal CV-59, stitched in gold letters on the front. I asked him if he had served on the Forrestal and he said "Yes". I then asked him if he was there when the great fire occurred and he said, "Yes, I was there during the fire and explosions. I was a young ensign on the bridge (command center) helping with the launching of the jets when the bombs went off on the deck. It was caused by a missile from one of the planes launching inadvertently and hitting other planes. It caused a chain reaction of exploding bombs. It was a very bad situation." I asked if he recalled the name Harvey Scofield. I explained that Harvey had died on the ship from the explosions and that he had been a classmate of mine in high school. He said that he did not recall Harvey but that he must have been one of the AN (airman) sailors who were sleeping below the flight deck when the bombs went off (ANs need to sleep near the planes). He also said it took many weeks to ID some of the same sailors through dental records (there was no DNA testing in 1967). Then his wife walked up to us and he explained what we were talking about. She looked at me with a look of condolence and said, "We lost of lot of good men that day. I'm sorry for the loss of your classmate." I thanked her, and then him, and went home contemplating what he said and decided to research the catastrophe in more detail. I learned that Harvey and was one of 138 sailors who died in the fire and explosions. It was the largest loss of navy lives since the 800 lost on the USS Franklin after a Japanese bomber attacks in March 1945. The deaths on the Forrestal included firefighters on deck, pilots, and the sailors just below. The names of 18 were known through a process of elimination, but their remains could not be identified. They were buried, as a group, in eight coffins in Arlington Cemetery in late 1967. It was a big ceremony with a full honor guard. Harvey is resting in a Miami Cemetery.
Harvey's name is on the Vietnam Wall and here what is listed on The Wall website. I found the accompanying photo of Harvey at another site. Probably posted by one for his navy buddies.
HARVEY DREW SCOFIELD
AN - E3 - Navy - Regular
Length of service 1 years
Casualty was on Jul 29, 1967
In NORTH VIETNAM (DP note: off the coast in the Gulf of Tonkin)
Non-Hostile, died missing, SEA CASUALTY
OTHER CAUSES
Body was recovered
I debated about posting this memorial, as it is hard to contemplate how Harvey died and for deaths related to war in general. I shared my thoughts with Maria Gonzalez Richardson and she agreed that bumping into the USS Forrestal navy officer was more than just a coincidence. She urged me to write my memorial and post it. I am not a stranger to military war casualties, because I was in the Army Medical Corp in Letterman Hospital in the Presidio of San Francisco in 1971. Even though the war was winding down by then (there were about 2,500 KIA and 5,000 wounded that required hospitalization in 1971), our west coast hospital was one of the primary Army hospitals for the care of the soldiers wounded and maimed in Vietnam. So, I must say, when I found Harvey's picture on another website, it brought tears to my eyes. He was such a nice kid and died at the age of 19!
Post Script: The tragic death of Harvey and his shipmates did not go without having a positive effect on the U.S. Navy. About 15 years ago, our Master of Public Health program admitted a young man who had served on a Navy aircraft carrier for 4 years as Corpsman (equivalent to an Army medic). I told him about Harvey's death on the Forrestal. He then told me that, despite the tragedy, the deaths of the Forrestal's sailors were not in vain. Because of what happened on the Forrestal, the US Navy instituted significant flight deck safety measures, mandatory damage control training of all sailors, and increased escape hatches in berthing (sleeping) areas. The young man said that he and his shipmates felt safer at sea because of the measures implemented. I smiled and nodded my head.
Think of Harvey and his shipmates on Memorial Day.
Danny