Miami Coral Park Senior High School
In Memory
Thomas Humphrey DeAbreu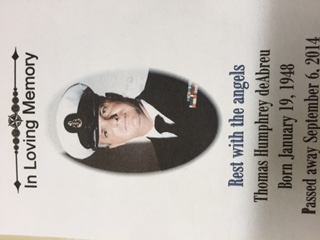 Thomas Humphrey deAbreu
Thomas Humphrey deAbreu passed away September 6, 2014 at his home in Jacksonville, Florida. He was born January 19, 1948 in San Nicholas, Aruba, the youngest of the seven children of John and Mary deAbreu. His family moved to Miami, FL in 1960 and he attended Miami Coral Park High School, graduating in 1966. Tom served in the U.S>.Navy from 1967-1989 and then was employed by the U.S. Postal Service from 1992-2012 when he retired. Though raised in the Roman Catholic Chruch, Tom was an active member of the Church of the Epiphany Episcopal Church for over 30 years with his family.
Tom was predeceased by his parents, brother Calvin deAbreu and sister Marilyn Ann Smith. He is survive by his loving wife of 46 years, Linda GIvens deAbreu; daughters Tami deAbreu and Dawn deAbreu (James Reese); grandsons Andrew, Aiden and Addison and granddaughter, Ansley; brother Leslie (Joy) deAbreu; sisers Patricia (Harry) Wever, Monica (Dick) Cavanaugh; and Donna Young; and his beloved dog Gingersnap.
In lieu of flowers, the family requests that donations be made to the American Cancer Society, Jacksonville Chapter, located at 1430 Prudential Drive, Jacksonville, FL 32307.
A memorial service celebrating Tom's life was held on Monday, September 15, 2014 at 11:00am at Most Holy Redeemer Cathlic Church located at 8523 Normandy Boulevard, Jacksonville, FL 32221. Military honors and receeption was followed.